Your memory.  It contains all of your thoughts, life experiences, past events you've attended and names of your friends and family members or even the items that you need to buy at the grocery store.  Your memory is the book of your life, past and present, that is kept tucked away within your mind.
As we age, it's not uncommon that our memories aren't as good as they once were.  However, for some, memory loss can be related to a clinical condition such as dementia or alzheimer's disease.  This can be extremely difficult for those that suffer from memory loss as well as their husbands or wives, sons or daughters, or any of their caregivers.
Assistance For Memory Loss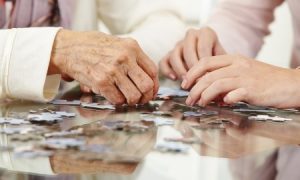 When someone is having problems with their memory, what can be done?  How do you help those who suffer?  Is there a way to provide care for those who have a loss in their memory function?
The good news is that there are things that can be done to help those who are having memory difficulties.  Whether your loved one is just having some early stages of memory difficulties or has more advanced memory loss, there is help that can be provided.
One type of assistance is through a memory care center where the individual is initially evaluated and are then involved in a memory care program to assist them with their difficulties.
Sauk Prairie Memory Care Center
Maplewood of Sauk Prairie offers memory care services for those who are faced with the difficult challenges of memory loss, including dementia and alzheimer's disease.
Our memory care programs are offered within Evergreen Court, a special unit dedicated specifically for memory care residents.  This secured area is staffed by our wonderful team who have been specially trained in the areas of memory care treatment.
Evergreen Court offers 14 private rooms with handicap accessible bathrooms.  This quaint setting provides ongoing support through memory activities, interactions with others and a place where special attention can be provided for the specific needs of each of our residents.
Through a structured program, our staff works with our residents to include ongoing daily activities that supports their mind and supports them as a unique individual.  Daily games, crafting, interactive activities and special events make Evergreen Court a special place to assist those who are having memory difficulties.
In addition, this special unit has its own outdoor courtyard where you will find residents taking care of flowers, conversing with one another or just taking in some beautiful weather.
Memory Care Help is Close to Home
At Maplewood, we understand the impact that memory loss, including dementia and alzheimer's disease, can have on a family.  You want the absolute best for those that you love and that's exactly what we want as well.
If you have a loved one that needs memory care treatment, we encourage you to call us and speak with us directly about how we may help.  Call us at 608-643-3383.  We would be happy to talk with you and answer all of the questions that you may have.