One of the most common health services offered today in healthcare is physical therapy.  It is often widely needed for patients with a wide ranging set of conditions.  Fortunately, effective physical therapy in Sauk Prairie Wisconsin is available at Maplewood of Sauk Prairie.
Who Requires Physical Therapy?
It is not uncommon that your doctor will prescribe you with sessions of physical therapy for a variety of health conditions.  The conditions that they may recommend physical therapy for are numerous, but may include:
Injuries; both new and chronic
Post-surgery rehabilitation
Stroke rehabilitation
Cardiac rehabilitation
Vestibular (balance) therapy
Strength or flexibility training
and more
Your Initial Visit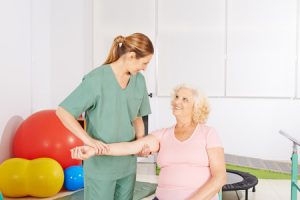 Once you are scheduled for your initial meeting with the physical therapist, you'll want to know what takes place.
During your first visit, you'll sit down with the physical therapist (P.T.) who will typically ask you questions about your problem.  Although your health care provide may have referred you, the P.T. will want to better understand your condition and how to best treat it.
The therapist will also want to examine the area using a variety of tests such as range of motion, strength, flexibility, balance, etc.  These initial tests build the framework of the treatment that will serve you best and provide a baseline for the P.T. to monitor how your condition is improving in the future.
Your Physical Therapy Appointments
Upon determining the best treatment plan for you, the physical therapist will often visit with you on a regular basis.  These individual treatments often last between 15 minutes to an hour, and are commonly 1x, 2x, or even 3x per week.  The amount and length of treatment often depends upon your condition, the severity, length of time you've had the condition and other contributing factors.
Treatment sessions may include stretching or strengthening exercises, balance training, endurance an conditioning, or other therapies.  The purpose is to return you to a more normal life.
Follow Up Examinations
After a certain period of time, you will most likely have your condition re-evaluated by the physical therapist.  This means that they will again access your overall condition and its progress with an examination.
The results of this physical examination will be compared to the first examination that you have had.  The physical therapist will also take into account other factors, such as your pain levels, activities of daily living and overall well being.  They may recommend continuing on with treatment (should your condition require more therapy) or discharge (if your condition is fully resolved).
After Physical Therapy
After you have been discharged from your physical therapy appointments, you will commonly need to return to see your healthcare provider that referred you for physical therapy.  They'll want to re-evaluate you to assure that you are fully recovered.
In the event that you need more therapy or your condition suddenly returns, you may again be referred back for more physical therapy.
Physical Therapy at Maplewood of Sauk Prairie
Maplewood of Sauk Prairie has a complete physical therapy and occupational therapy team that can help you when you require physical therapy services.
Our physical therapy department is completely staffed with a talented rehabilitation team and we have complete access to a wide range of the most necessary therapy tools and equipment.
If your healthcare provider believes you need physical therapy, request that you be treated at Maplewood of Sauk Prairie.  You are welcome to call us at 608-643-3383 if you have any questions.