For a senior, one of the most worrisome situations is a traumatic fall when no one is around.  What will they do?  Who will get help?  How will they recover?
Falls in the senior community are quite common and can pose a large problem.  Falls can cause injuries, immobility, loss of independence, and even death.
According to the US Center on Disease Control and Prevention:
One in three Americans, aged 65+, fall each year.
Every 11 seconds, an older adult is treated in an emergency room for a fall.
Every 19 minutes, a older adult dies from a fall.
Falls are the leading cause of fatal injury and the most common cause of nonfatal trauma-related hospital admissions among older adults.
Balance Problems Are a Common Cause of Falls in Older Adults
There are a variety of reasons that falls can occur in the elderly.  However, a common problem is balance problems.
Balance disorders, which are more common in adults, can lead to instability with standing or walking.  When the individual loses their balance without anything around to sufficiently stabilize them, the fall can occur.

Balance Therapy at Maplewood of Sauk Prairie
Fortunately, the physical therapy team at Maplewood of Sauk Prairie has the ability to evaluate and treat balance disorders.  Our team has the special knowledge of working with older adults and their balance problems.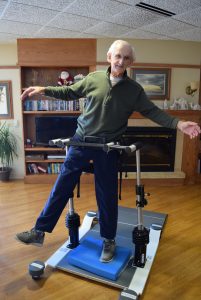 In addition, we have specific equipment that we use to better treat those with balance issues.  We are the only therapy center in our area that now uses the OmniStand Dynamic Balancing System.
This equipment allows the therapists to work with patients in a safe and secure manner.  Once the patient is secured in the equipment, they are then able to work on their balance therapy through bending and performing exercises without the fear of ever falling.  This allows the patient to increase their strength, improve their flexibility, and regain their balance mechanisms within their bodies.
If you'd like to learn more about our balance programs within our physical therapy department, contact us at 608-643-3383.