Taking care of a loved one who requires consistent care can be very difficult experience.  Of course, the role of caregiver is a very heart felt, nurturing and loving experience, but over time is can also be very wearing on the caregiver.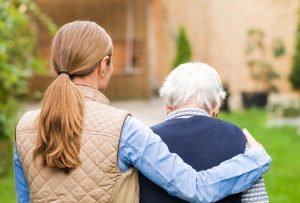 For the caregiver, the requirements are great and can cause a great deal of stress, worry and a physical toll over time.  The caregiver often does not receive "a break" from their role, sacrificing much of their own freedom and lifestyle to care for their loved one instead.
The caregiver often places their needs behind that of their loved one for months or even years, which can create a very tenuous position.
Respite Care in Sauk Prairie
Fortunately, there is another option that can be utilized that can help everyone involved; the loved one, the family and the caregivers.
This option is called Respite Care and is a type of shorter term care that allows the caregiver to take time away from their caregiving responsibilities and also helps the loved one with other socialization and a loving and caring environment to be cared for.
The loved one can be cared for at a facility, like Maplewood of Sauk Prairie, for weeks or even months, until the time comes when their care can be taken over again.  They are cared for by a skilled staff that has significant experience in the area of elder care and/or memory care.
The Benefits of Respite Care for the Loved One
There are a variety of benefits that your loved one receives through respite care.
They can experience socialization with others who are like them
They receive unmatched health care services with professional staff
They can participate in activities to stimulate their body and mind
and many others
The Benefits of Respite Care for the Caregiver
The caregiver also experiences benefits from short term care of their loved one.
They can spend some time with their family and friends
They can have a chance to take a well deserved vacation
They can catch up on other things that need to get done (errands, projects, etc)
They know that their loved one is being well care for
There are times in life that caregivers may need a "break" from their caregiver responsibilities for a short period of time.
When the situation arises, the professionals at Maplewood of Sauk Prairie in Sauk City, Wisconsin are prepared to help you in this process.  Our respite care services allow us to take care of your loved one in the way you expect, for a specific duration of time.  This allows you to take some time off to "de-stress", unwind, take a trip, complete a project…whatever it is that you need to do.
Should you want to learn more about our respite care program, call us today at 608-643-3383.