Welcome to Our New Maplwood of Sauk Prairie Website!
We are please to show off our new website that we have developed and launched on March 1, 2013.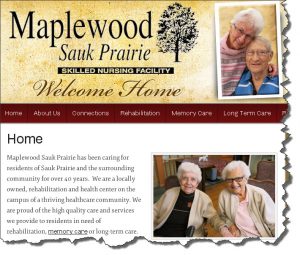 At Maplewood, our goal is to provide our residents, their families, and the community with a way to interact with us and to share a small glimpse of the type of services that we provide.
We are constantly striving to provide exceptional care in a warm and loving environment.
Our new website features a variety of options:
Our Services
You'll be able to read about the various services that we offer including skilled nursing, rehabilitation, memory care, long term care, respite care and hospice care.
Our Community
You'll be able to take a look inside the wonderful community that we have built at Maplewood.
Calendar of Events
You'll be able to monitor the various events that we are providing at Maplewood of Sauk Prairie.
Picture Gallery
View the various pictures that include our staff, our activities and the community that we offer here.
Community Partnerships
Review the community partnerships that we have developed, allowing us to serve our community in best way possible.
These are some of the features that we are now offering through our new and improved website.
We hope that you enjoy it.
If you have any questions, feel free to contact us at 608-643-3383