According to the American Stroke Association, Stroke is a disease that affects the arteries leading to and within the brain. It is theNo. 5 cause of death and a leading cause of disability in the United States.
A stroke occurs when a blood vessel that carries oxygen and nutrients to the brain is either blocked by a clot or bursts (or ruptures). When that happens, part of the brain cannot get the blood (and oxygen) it needs, so it and brain cells die.
Some Stroke Statistics
About 795,000 Americans each year suffer a new or recurrent stroke. That means, on average, a stroke occurs every 40 seconds.
Stroke kills nearly 129,000 people a year. It is the No. 5 cause of death.
On average, every 4 minutes someone dies of stroke.
About 40 percent of stroke deaths occur in males, and 60 percent in females.
In 2010, worldwide prevalence of stroke was 33 million, with 16.9 million people having a first stroke. Stroke is the leading cause of adult disability.
2010 for stroke-related medical costs and disability.
African-Americans have nearly twice the risk for a first-ever stroke than Caucasians and a much higher death rate from stroke.
It is extremely beneficial to be able to identify when someone is having a stroke.  The faster they are able to get medical attention, the better their chances of recovery are.
To identify someone who is having a stroke, remember the acronym FAST.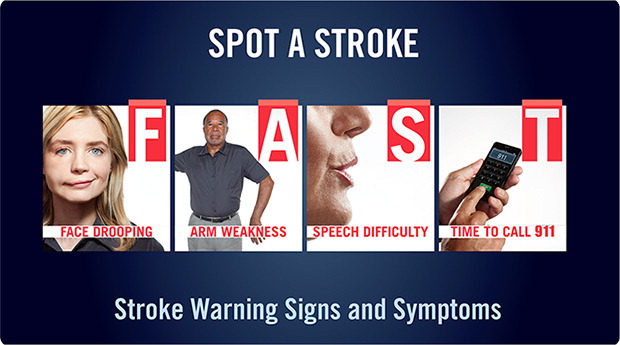 F:  Face Drooping – Does one side of the face droop or is it numb? Ask the person to smile. Is the person's smile uneven?
A:  Arm Weakness – Is one arm weak or numb? Ask the person to raise both arms. Does one arm drift downward?
S:  Speech Difficulty – Is speech slurred? Is the person unable to speak or hard to understand? Ask the person to repeat a simple sentence, like "The sky is blue." Is the sentence repeated correctly?
T:  Time to call 9-1-1 – If someone shows any of these symptoms, even if the symptoms go away, call 9-1-1 and get the person to the hospital immediately. Check the time so you'll know when the first symptoms appeared.
Identifying the symptoms of a stroke and getting prompt medical attention can make all of the difference in the lasting effects and the recovery of the stroke victim.