For seniors, slipping and falling can be the cause of numerous injuries.  Commonly, a slip and fall can be the cause of broken bones, head injuries, sprains/strains or painful bruising.  Ideally, the best way to approach this issue is to try to prevent the falls in the fist place.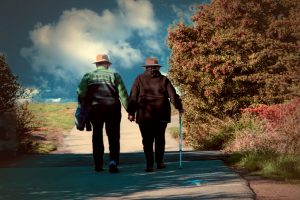 Although anyone, at any age, can slip and fall, it becomes more common as we get older.  Balance issues, dizziness, and weakness of muscles are quite common in seniors and this provides the right mix to increase the chances of falling and and potentially injuring themselves.
Often, the fall may cause injury, but it becomes the secondary issues due to the fall that rises up and becomes the major health problem.  Due to increased chances of weakening bone structure in the senior population, a fracture can certainly occur upon falling.  If the fracture causes reduced mobility, such as in a hip fracture, the individual can suffer from longer term effects such as chronic pain, reduced lung function and weakening of the musculature.
For these reasons, it is extremely important that steps are taken to try to limit the possibilities of falls. Whether you are a senior yourself or are the loved one of a senior, actions can be taken right now to help to prevent unnecessary falls.
During Winter – Watch For Ice
During the winter time, it is important to watch for ice buildup on steps and sidewalks.  Gutters that drip can often be the cause of ice buildup and should be repaired.  Sand or salt could also be applied.  Someone should be dedicated to making certain that all sidewalks are clear from snow and ice.
Proper Handrails
Properly installed handrails can make a considerable difference for those who have difficulty with balance.  By securing handrails at the proper height in the proper areas, this can prevent falls.
Use a Cane or Walker
For those that have difficulty walking, it is often necessary to use a cane or a walker.  These can be used for stabilizing the person while they are moving.  Some are resistant to using a walking aid, but it may be time to have a discussion if that is the case.
Bathroom Aids
Installing bathroom aids like grab bars in the shower area can be a great benefit.  These wet surfaces can be the perfect place for a slip and fall and any aid that can help to assist the person with standing or walking is a good thing.
Watch the Floors
Keep the floors clean of any objects that may cause a fall.  Straighten rugs and remove any objects that may get in the way and cause a loss of balance and a fall.
It is important to stay safe and prevent slips and falls at any age.  But, it is even more important to take steps to prevent those that are especially at risk for falling.